Flexo-elastic, two-part, instant adhesive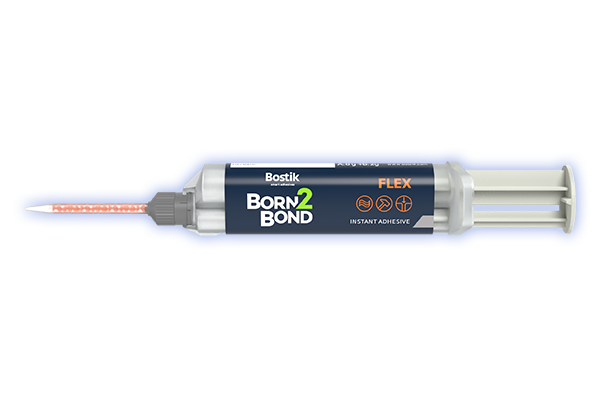 Born2Bond™ Flex is a patent-pending, flexible, elastic and low-odor instant adhesive with exceptional adhesion to a very broad range of materials and surfaces. It becomes a polymer (hardens) with more than 200% elongation with a working time (in mixer) of up to six minutes. It can be used for high-volumetric gap filling, achieving instant adhesion to most plastics, woods and metals as well as to porous and irregular surfaces. It doesn't carry any hazard label (not even irritant according to CLP classification).
Flexible & Elastic
Gap Filling
Low Bloom
Low-odor Technology
Multi-substrate Adhesion
Precision
Features
Fixture time in 60 seconds
Hardens in 5-10 minutes
Elongation > 200%
Absorbs impacts and vibrations
High peel strength
Bonds a large range of materials
Transparent, low odor, low blooming
Gel consistency for precise application
Non-sagging for vertical applications
Typical Applications
Leather bonding for luxury clothing
Sealing repair
Elastic seam and joint sealing
Flooring and panel bonding
Vibration dampening
Product Specification
FLEX
BASE
Methoxyethyl Cyanoacrylate

VISCOSITY (cP)

Part A: 120,000 to 170,000
Part B: 70,000 to 130,000
OPEN TIME
6 to 10 min

FIXTURE TIME*

60 seconds
BOND STRENGTH
Grit-Blasted
Mild Steel
10 MPa
APPEARANCE
Transparent

TEMPERATURE RANGE

-40ºC to 60ºC

GAP FILLING CAPABILITY

1cm

AVAILABLE IN

Syringes: 10g, 50g
Directions for use
Before applying Born2Bond Flex, make sure the surface is clean, dry and grease-free.
To use, Part A and Part B must be blended. → Product can be applied directly from the syringe using the plunger supplied and dispensed through the recommended mixing nozzle.
Hold the syringe upright and insert the plunger. → While keeping the syringe in an upright position, remove the cap, attach the mixing nozzle, and begin dispensing the adhesive upward until any bubbles present in the smaller component have been removed.
Dispense and discard a bead as long as the mixing nozzle, to ensure sufficient mixing.
Here more information regarding Born2Bond™ Flex.