Silicone innovations for lighting
Your customers and end users demand brighter, more energy efficient, more unique, such as a drum shade chandelier, and longer-lasting lighting systems. You can meet that demand and shape the future of lighting with the right materials and the right help. Do you already know the latest silicone innovations for lighting?
Dow's innovative, high-performance silicone materials for protection and assembly and secondary optics – backed by a global network of lighting, technical, optical, and process experts – can help you imagine a brighter future. Rely on the durable adhesion and protection from moisture, humidity, dirt, thermal, and physical damage you will get from Dow silicones for Protection & Assembly.
Moreover, out silicone innovations for lighting offer superior reliability and long lifetime performance, even in the most demanding applications. They allow you to create optics in complex shapes with fine details and integrated mechanical features that may not be possible in traditional plastics. The combination of innovative silicone protection and assembly and optical materials – and Dow's technical expertise – offers solutions that help you develop products that offer end users longer product life cycles and greater efficiency.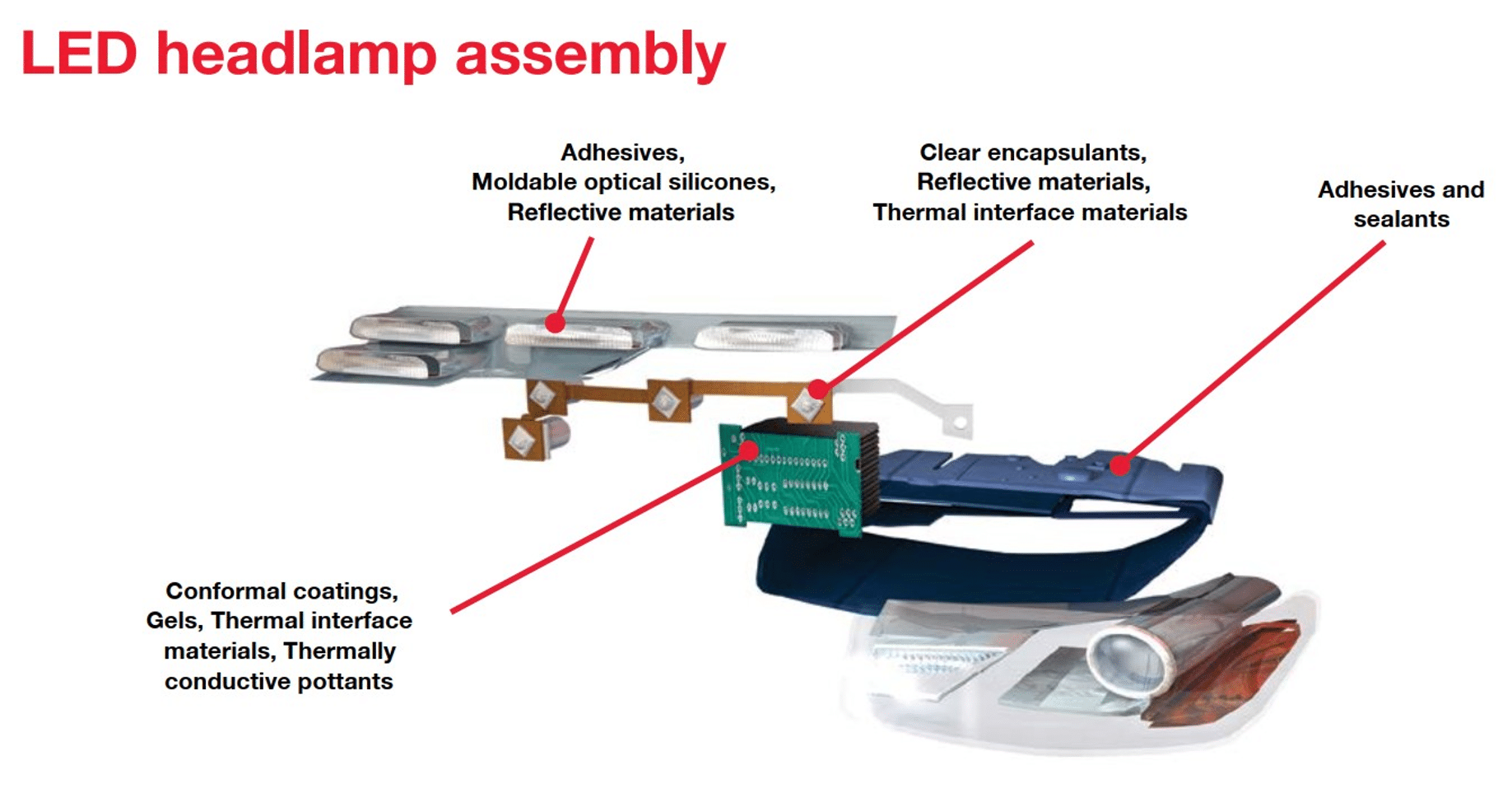 Solutions for lighting protection & assembly
No matter what the application, your design must remain intact and be protected from ultraviolet light, moisture, dust, corrosion, impact and vibration, operational heat, and environmental thermal extremes. You can draw from Dow's decades of industry-leading experience in encapsulating, assembling, sealing, and providing thermal protection for sensitive devices in demanding applications, from implanted medical devices to aircraft instrumentation, and from transportation PCB assembly to solar energy systems.
We can help you select the right material from the following time-tested, high-performing product portfolio. These include the following silicone innovations for lighting:
Adhesives and sealants
Clear encapsulants
Coatings
Gels
Thermal pottants
Thermal interface materials
Adhesives and sealants
By forming durable, low-stress elastomers, DOWSIL™ silicone adhesives and sealants provide you with excellent bonds and seals between a variety of common LED lighting materials. This increases your design flexibility while providing reliable long-term performance at temperatures up to 150 C. These one-part, solventless materials cure at room temperature to greatly simplify processing, and their low volatility helps your design maintain lumen output over its lifespan.
Clear encapsulants
Protection and performance go hand-in-hand. Clear encapsulants from Dow help you balance both. In addition to moisture resistance, they absorb thermal cycling stress, protecting the sensitive components. Their high transmittance and thermal stability help your design maintain light quality over a longer time, while their unique chemistry offers minimal yellowing and degradation.
With a selection of cure profiles, viscosities, and hardnesses, you can explore new design options in a variety of applications. These two-part encapsulants expand processing options – from dispensing material to overmolded lens designs. They also provide moisture resistance, absorb thermal-cycling stress, and protect the sensitive components.
Coatings
The delicate PCB systems assemblies of your design need protection from humidity, moisture, and physical stress. DOWSIL™ one-part silicone conformal coatings can provide that protection – and deliver excellent insulation against shock and short circuits. You will also find them helpful for protecting circuitry in severe service environments, and they are available in a number of viscosities and cure chemistries.
Gels
DOWSIL™ and SYLGARD™ gels offer you even greater design flexibility. Their softness and lower stress make them ideal for devices with sensitive components and fine-pitch wiring. These two-part materials retain much of the stress relief and self-healing qualities of a liquid while maintaining the dimensional stability of an elastomer. Gels cure in place to form a cushioning, self-healing, resilient material that provides stress relief, electrical insulation, and protection from moisture and other contaminants.
Thermal pottants
Environmental contamination and thermal damage to components can be two of the biggest threats to the long-term reliability of your LED lighting. DOWSIL™ and SYLGARD™ thermal silicone pottants protect LED drivers from moisture and dust, while dissipating heat and absorbing component noise.
Our two-part pottants feature a 1:1 mix ratio, and a room temperature cure process that can be heat accelerated – offering you greater manufacturing flexibility. With high thermal conductivity, and the ability to withstand extreme temperatures and environmental conditions, these materials help you deliver designs that offer greater long-term reliability, and potentially lower lifetime cost.
Thermal interface materials
Nothing will shorten the lifespan of your LED lighting more than heat, and LEDs generate a lot of it. By designing with DOWSIL™ thermal interface materials, you have more heat management options. The thermal stability of silicones offers long-lasting, consistent thermal conductivity – even at temperatures at which traditional materials might begin to degrade.
Thermal adhesives form thermally stable bonds to most LED PCB and heat sink substrates, and deliver excellent thermal conductivity. The low volatility of these one-part materials means no adverse impact on components or light output. And their sealing and adhesive qualities can allow you to minimize the number of components, and optimize the manufacturing process.
Thermal compounds offer high bulk conductivity and low thermal resistance. They are formulated to allow high loading of thermally-conductive fillers, and designed to achieve very thin bond line thicknesses.
Dispensable thermal pads allow you to quickly and precisely print thermally conductive silicone pads, in controllable thicknesses, on complex substrate shapes. They offer you enhanced thermal performance, and can accelerate production, and in many cases, reduce system costs.
Illuminating the future: silicone innovations for lighting
Discover new and innovative ways to control light. Create optics in complex shapes, or with fine details or integrated mechanical features not possible in traditional plastics. As the pioneers of optical silicones, our portfolio of innovations enable more applications and even greater freedom in LED lighting design.
When you pair the unique benefits of these materials with Dow's collaborative expertise, you will find new ways to help enhance the performance, durability, and reduce the total cost of ownership of your lamp and luminaire design. And the earlier in the design process you work with our experts, the more we can do – together – to enhance value and performance.

Moldable optical silicones
You will find an unprecedented level of design freedom with moldable optical silicones from Dow. Versatile and moldable, these two-part materials allow you to explore more complex designs – often while simplifying the manufacturing process. They can also boost the long-term performance of your design beyond the capability of traditional optical materials.
Not only do they offer excellent optical properties, they are more resistant to impact damage and degradation from UV, heat, and environmental extremes. This means your optics will remain physically and chemically stable while providing higher lumen densities. With moldable optical silicones from Dow, you can explore new design possibilities in challenging applications, such as automotive, retail, professional and consumer lighting, sports lighting, and outdoor displays.
Optical coupling for displays
DOWSIL™ optical gels can be used as liquid, optically clear, coupling agents for display and LED lighting applications. These two-part* gels offer more processing flexibility, with the options of room-temperature cure (with no need for ovens or heat-accelerated cure), if faster processing is desired. These gels have been used extensively to seal and protect, by coating, encapsulating, or potting various optoelectronics due to their stress relieving capability and high refractive index, as well as the stability of these properties over time. Cured gels retain much of the stress relief and self-healing qualities of a liquid, while providing the dimensional stability of an elastomer – which is increasingly needed for delicate components.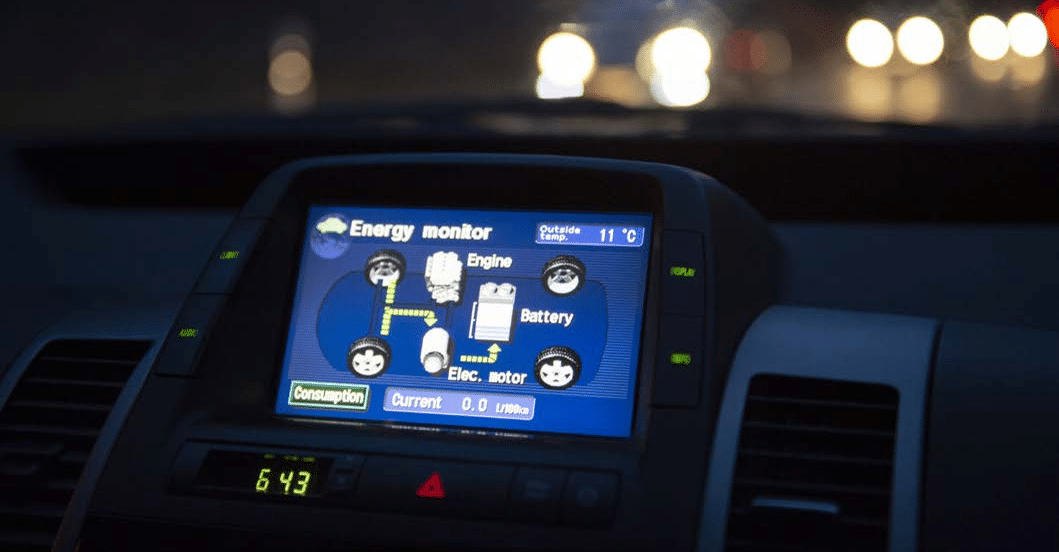 Secondary optical encapsulants
One way to realize greater cost efficiency, and lower total cost of ownership is through materials that can perform multiple functions. DOWSIL™ optical encapsulants offer you that opportunity. These two-part* materials provide superior protection from moisture, thermal stress, shock and impact, and offer excellent optical performance. You can count on minimal yellowing and degradation, while maintaining consistent light quality over the product lifespan.