Solving your performance problems with application-specific Molykote® brand lubricants
Imagine breaking off the key in the ignition while trying to start your car in freezing weather.
Imagine having your power-operated window stuck half-open during a driving rainstorm.
Imagine a seat track attracting dirt, lint and other grime, that gets on your hands or stains clothes.
These are clearly not imaginary problems. They're very real concerns. A large part of drivers' comfort, satisfaction and pride of ownership stems from activity inside their vehicles. That makes ergonomic or functional problems in these areas a serious threat to customer satisfaction and repeat sales, especially in these times of intense competition.
The right solution at your fingertips
The fact is, you can often avoid these kinds of automotive problems simply by choosing the right Molykote® specialty lubricant from DuPont. We manufacture a wide variety of specialty lubricants specifically for automotive applications. In addition to long-life, low-friction operation, they can provide added benefits such as:
Electrical compatibility, to avoid breakdowns in switches and other electromechanical components that lead to system failure.
Plastics compatibility, to avoid degradation and provide long life for light-weight, injection-molded parts such as gears, bushings or housings.
Functionality in extreme temperatures, for smooth, easy operation in high-heat and cold-weather environments.
Dry application, that will not attract dirt and grime, or produce stains.
The right formulation for your automotive environment
Molykote means much more than silicone grease. This advanced product line is comprised of a wide range of specialty lubricants suitable for applications from seat tracks, tocable sleeves, to window actuators, to HVAC controls.
Choose from:
Anti-friction coatings: permanent, bonded "lubricating paints" that are excellent for track applications, fasteners and areas open to touch or near clothing.
Liquid lubricants, especially for control cables.
Synthetic greases (such as poly-alphaolefin-based compounds), for electrical applications and plastic-on-metal lubrication.
As well as silicone greases that offer long life, and low friction performances at low and high temperatures.
In addition, through the testing and evaluation conducted at our Lubricants Expertise Center in Plymouth, Michigan, we can demonstrate and document which specialty lubricant is recommended for your application. We'll also advise you on effective application techniques for any of these lubricants in your production manufacturing environments.
Customized technical support to meet your needs
Use the Selector Guide charts on the following pages to help choose the right Molykote lubricants for your automotive applications. Then give one of our experienced customer service specialists a call to discuss your needs. He or she can answer your questions about Molykote lubricants and send you technical data for specific applications.
Molykote Body/Interior Lubricant Selector Chart
Molykote Lubricants for General Purpose Applications
Molykote Lubricants for Engine Accessories
Molykote Lubricants for Engine Components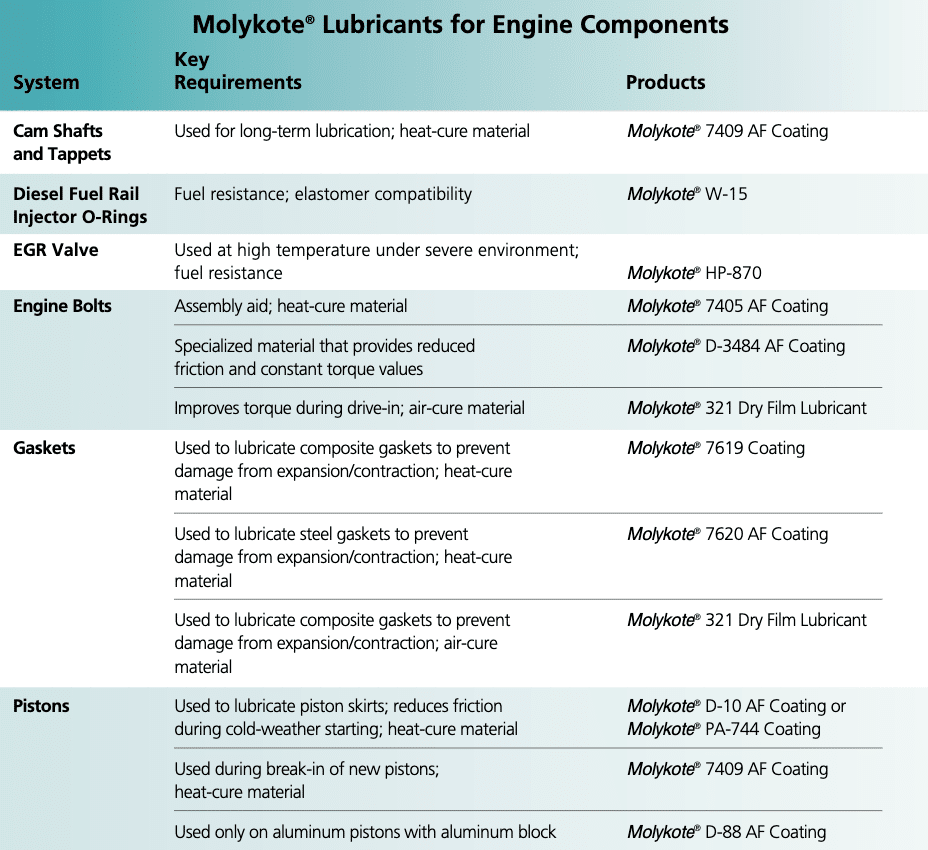 Molykote Lubricants for Chassis/Suspension
Molykote Lubricants for Brakes
Complete Automotive Lubricant Expertise
In addition to lubricants for the applications included in this publication, DuPont also provides Molykote products for other automotive needs. Call or fax us to discuss your specific requirements. Together we can get things moving.
Lubricants Expertise Center
DuPont maintains a 35,000 sq. ft. facility to provide customers with cost-effective specialty lubricant solutions. The Center conducts testing and validation of customer component performance from prototype through production. Our experts offer applications engineering consultation, technical service and application-specific product development. The Center also provides a variety of ASTM, DIN, ISO and other standard lubricant tests, using specialized equipment and trained technicians. Center expertise also includes application methods, with special emphasis on anti-friction coatings. Personnel at the Center interact daily with our sister facilities in Japan and Germany, as well as research headquarters in Midland. You can be assured of comprehensive technical support anywhere in the world you do business.
A supplier you can count on
As a worldwide supplier, DuPont has earned a reputation for providing consistent quality, proven technical service support, proper product labeling and long-term stability. We're a reliable partner who is dedicated to customer service and believes in meeting the highest standards.